Army Community Service
Hours of Operation
| | |
| --- | --- |
| Monday | 7:30 a.m. - 4:30 p.m. |
| Tuesday | 7:30 a.m. - 4:30 p.m. |
| Wednesday | 7:30 a.m. - 4:30 p.m. |
| Thursday | 7:30 a.m. - 4:30 p.m. |
| Friday | 7:30 a.m. - 4:30 p.m. |
| Saturday | Closed |
| Sunday | Closed |
| U.S. Holidays | Closed |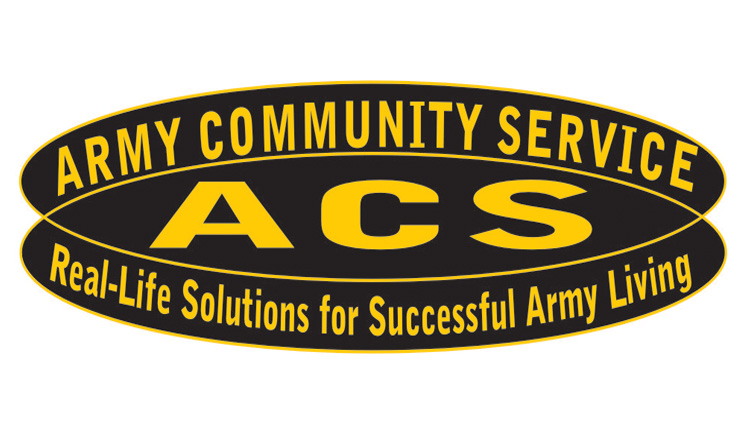 Army Community Service (ACS) has a wealth of resources for Soldiers, Families, Reservists, Retirees, and DoD Civilians. The programs offered within are designed to enhance quality of life, promote resilience and self-reliance, and provide stability during war and peace. ACS offers a place to find the type of support needed for the enhancement of both individuals and Families.
We invite you to visit and utilize the many services and opportunities provided to help you develop the skills and knowledge needed to face the challenges of military life. Learn more about these services and programs offered at Fort Drum ACS in our Fort Drum ACS Trifold.
Check out the Fort Drum Soldier & Family Tour Guide to learn more about Fort Drum and our surrounding communities.
To report suspected spouse or child abuse:
In case of emergency dial 911.
Fort Drum Military Police: (315)772-5156
New York State Child Abuse, Maltreatment Registry: 1-800-342-3720
Domestic Violence:
Fort Drum Crisis Hotline: (315)955-4321, connects you with a trained professional victim advocate 24/7.
Family Advocacy Program Victim Advocates: (315)772-5605 or (315)772-8934. After duty hours call the Fort Drum Crisis Hotline number listed above.

Check out the ACS Monthly Calendar:
June 2017 ACS Monthly Calendar
ACS Program and Service Directory

Army Emergency Relief (AER)
(315)772-6560
ACS Annex 435A MWR Drive

National Website: www.arehq.org

 

Army Family Action Plan (AFAP)
(315)772-9229
ACS Bldg. P-4330 Conway Road
[email protected]

Army Family Team Building (AFTB)
(315)772-9229
ACS Bldg. P-4330 Conway Road
[email protected]

ACS Outreach Services
(315)772-5374
ACS Bldg. P-4330 Conway Road
[email protected]

Army Volunteer Corps (AVC)
(315)772-2899
ACS Bldg. P-4330 Conway Road
[email protected]

Community Information Services/Information & Referral (I&R)
(315)772-6799 or 1-800-826-0886
ACS Bldg. P-4330 Conway Road
[email protected]

Employment Readiness Program (ERP)
(315)772-9611
ACS Bldg. P-4330 Conway Road
[email protected]

Exceptional Family Member Program (EFMP)
(315)772-5476
ACS Bldg. P-4330 Conway Road
[email protected]

Family Advocacy Program (FAP)
(315)772-6929
ACS Bldg. P-4330 Conway Road
[email protected]

Financial Readiness Program (FRP)
(315)772-5196
ACS Annex, 435A MWR Drive
[email protected]

Mobilization and Deployment Program (Mob/Dep)
(315)772-2848
ACS Bldg. P-4330 Conway Road
[email protected]

ACS Outreach Services
(315)772-5374
ACS Bldg. P-4330 Conway Road
[email protected]

Relocation Readiness Program (RRP)
(315)772-6566
ACS Bldg. P-4330 Conway Road
[email protected]

Soldier and Family Assistance Center (SFAC)
(315)772-7781
11042 Mount Belvedere Blvd
[email protected]
virtual SFAC www.myarmylifetoo.com 

 

Learn About Army Life

Army Family Team Building (AFTB)

Army Family Team Building is a series of training modules taught through your local Army Community Service or Family Programs office that covers topics such as basic information about the Army, personal growth and leadership skills. AFTB improves personal and Family preparedness which enhances overall Army readiness and helps America's Army adapt to a changing world.

AFTB helps you to cope with and enjoy the military lifestyle. Many of the courses can be applied toward resume and career building, self-development and leadership skills. AFTB provides the knowledge and self-confidence to take responsibility for yourself and your Family. The training is available to Soldiers, Family members of all Soldiers, Department of Defense civilians and volunteers.

My Army OneSource: Army Family Team Building

Contact your AFTB Program Manager more information!

New to the Community?

Information and Referral Program

A comprehensive resource file provides information on both military and civilian agencies to Soldiers, Family members and DA civilians. Trained personnel will assist clients to find the appropriate and available resources.

Where available, this program offers a special Host Nation Services which includes un-certified translations of host nation language correspondence and bills. 

For further assistance or help, feel free to contact ACS.

Relocation Readiness Program

Welcome to Relocation Readiness! Moving is a part of life for Soldiers, Government Civilians and their Families. The Army Community Service Relocation Readiness Program provides assistance to the Total Army Family. We are dedicated to ensuring our clients are capable of surviving and thriving through the PCS and ETS processes. We have developed this program to assist you in finding information and resources to make you more resilient and agile as you navigate your next move.

Your first stop once you are notified of a pending PCS or ETS move should be your local ACS (Family Center) where you can meet with a Relocation Readiness Program Manager who will serve as a subject matter expert in assisting you through the process.

Household Goods Lending Closet

When relocating to a new installation, you can borrow basic household good such as: 

Pots and pans 
Dishes 
High chairs and car safety seats
GPS
Pre-paid cell phones
Kitchen appliances

Contact the ACS Relocation Manager for more information.

Adjusting to My New Country* 

Host Nation Orientation, where applicable, offers all in-processing personnel and their Families orientation on the local culture, language, transportation and tourism offerings. 

Contact your Relocation Program Manager for more information.

 *If applicable.

Career Guidance and Employment Opportunities 

The Employment Readiness Program (ERP) provides services to military Spouses, active duty Military, active Reserve and National Guard, Wounded Warriors, Retirees, DoD Civilians, and all Family Members. Services include:

- Up-to-date resource information on available local, national and international employment opportunities, job market trends, and education and volunteer resources.

- Classes and seminars on self-assessment and career exploration, resume writing, interviewing techniques, dressing for success, networking, and entrepreneurship.

- Resume critiques

- Career counseling and individual career assessments.

- Job fairs and other hiring events.

- Teen/youth employment Information

- Computers with internet access, resume writing software, and typing tutorials

Contact your Employment Readiness Program Manager for more information.

Financial Readiness Program

The Army is here to help provide you with information on matters dealing with money. From financial calculators to tax preparation, these tools can help you on your way to financial success.

Volunteer

Army Volunteer Corps can link volunteers with local volunteering opportunities.

What can volunteering do for you?  

Gain a sense of satisfaction and achievement by meeting challenges
Learn about the Army, its sister services, and the community
Acquire new skills and expand existing ones
Obtain work experience
Build new friendships and become a cohesive part of the community

Army OneSource: Find Volunteer Opportunities In Your Community

Contact your Volunteer Corps Coordinator for more information.

Family Members with Special Needs

The Exceptional Family Member Program (EFMP) is a mandatory enrollment program that works with other military and civilian agencies to provide comprehensive and coordinated community support, housing, educational, medical, and personnel services to Families with special needs. Soldiers on active duty enroll in the program when they have a Family member with a physical, emotional, developmental, or intellectual disorder requiring specialized services so their needs can be considered in the military personnel assignment process.

Family members must be screened and enrolled, if eligible, when the Soldier is on assignment instructions to an OCONUS area for which command sponsorship/Family member travel is authorized, and the Soldier elects to serve the accompanied tour. This screening consists of medical records review for all Family members, and developmental screening for all children 72 months of age and younger.

Soldiers are responsible for keeping their EFMP enrollment current as exceptional Family member (EFM) conditions change or at least every three years, whichever comes first.

The Exceptional Family Member Program (EFMP) provides an all-inclusive approach for community, educational, medical, housing and personnel services for Families with special needs. An exceptional Family member may be a child or an adult with any physical, emotional, developmental or intellectual disorder that limits the individual's capacity to engage in pursuits with peers or that requires:

Special treatment
Therapy
Education
Training

Respite Care Information Army One Source: Exceptional Family Member Respite Care Program

Enrollment and Screening Information US Army Medical Department: Exceptional Family Member Program

Contact your ACS EFMP Manager for assistance.

SNAP (Special Needs Accomodation Process)

The Special Needs Accommodation Process (SNAP) is a multidisciplinary team established to ensure the most appropriate placement of children with special needs. The team meets to review any new applications that indicate any possible special needs to review concerns regarding children already placed in Child and Youth Services (CYS) programs.

Who may be referred to the SNAP?
Any child who has a special need who is eligible to use CYS. Categories of eligibility include: children of contractors, civilians, employees, active duty military, and military retirees.

Children who have:

asthma
attention deficit disorder
diabetes
autism
epilepsy
down's syndrome
seizure disorders
physically challenged
learning disabilities
sensory impairment (hearing/vision)
developmental replays
speech/language impairment


Who are SNAP members?
Exceptional Family Member Program Managers, Army Public Health Nurses, Child and Youth Services Training and Curriculum Specialists, Child and Youth Services Coordinators, Child and Youth Services Program Directors or Trainers, and Appropriate Experts Parents/Sponsors/Guardians.

May I be present when my child is reviewed?
Yes! It is mandatory that a least one parent or legal guardian attend. According to the EFMP regulation, AF 608-75, 22 Nov 2006; children will NOT be able to start in any CYS programs until the review is completed. You will be informed of the date, time, and location of the SNAP meeting. In order to assist the team, you may be asked to bring specific information such as:

Medical documentation detailing developmental delays, illnesses, the severity of allergies (exposure, reactions, and treatments), prescription medications, and your expectations of services to be provided by the CYS staff as well as Educational and Developmental Intervention Program Information regarding developmental evaluations, services provided, etc.

Normally, a SNAP review will take between 1/2 hour to 45 minutes. A SNAP review needs to be held only once a year unless there are changes in the child's special needs, i.e. medications, treatment, diagnosis, etc.

If I am not happy with my child's placement in childcare programs, may I request another meeting?
Certainly! The team reconvenes if a child's needs change, if the parents desire a different program placement, or if a child seems to be experiencing difficulties in the current placement. Parents may request a SNAP review at any time by contacting the Exceptional Family Member Program Manager.

Are providers trained to care for my child's need?
All CYS providers are trained and experienced to meet the needs of children with special needs. If your child presents a situation new to the staff, they will receive specialized training before your child is entrusted to their care.

When does SNAP meet?
Once a month. Call for dates and locations. 

Survivor Outreach Services

Our Fallen Warriors have paid the ultimate sacrifice. The Army has a commitment to their Families. Families deserve our respect, gratitude and the very best we can provide. The purpose of SOS is to deliver on that commitment:

-          By providing access to support, information and services

-          Closest location to where the Survivor resides

-          When and for as long as they desire

SOS offers support through:

Benefits Coordinators. No one is ever fully prepared to lose a loved one, which is why we have Benefits Coordinators. Benefit Coordinators are located at the Casualty Assistance Center and are there to assist and guide you as you make the many decisions necessary following the death of a Soldier. Benefits Coordinators help identify your specific benefits and entitlements and ensure you receive what is legally yours. They assist you in completing paperwork and navigating the various agencies Survivors encounter. Benefits Coordinators remain current on changes in the law and have a wealth of information available to support you during this very difficult time.

Financial Counselors. In times of emotional distress, figuring out what to do about finances can create a heavy burden. Survivor Outreach Services Financial Counselors provide professional financial information and services in areas such as investing, estate planning, tax issues and basic budgeting. Our Financial Counselors will be there when you need them, for as long as you need them. They are committed to assisting you in creating your financial security and ensuring you receive the necessary information to make sound financial decisions.

Support Coordinators. The Survivor Outreach Services Support Coordinator provides long term support to you and is your link to the Army Family for as long as you desire. Wondering what direction to go in now? Your local Support Coordinator can help as you journey through this transition by providing direct services as well as information, referrals and recommendations. They can also connect you with support groups, bereavement and financial counselors, as well as help you request copies of documents, obtain answers to questions and direct you to additional Survivor resources.

For more information contact your local SOS Support Liaison.
My Army OneSource: Survivor Outreach Services

Warriors in Transition assigned to the Warrior Transition Unit (WTU)

Soldier and Family Assistance Center (SFAC) services will be tailored and responsive to the needs of the WT and their Families. Most services will be present in the SFAC location in order to maximize the convenience to the WTs and their Families. Other services requiring less than a full-time presence will be brought forward to the SFAC at designated times. Still other services will be provided through priority off-site appointments coordinated by the SFAC staff. SFAC sites will provide a warm, relaxed environment where Soldiers and their Families can gather to foster physical, spiritual and mental healing.

The services identified to date to be present or coordinated in the SFAC are:

-          Entitlement and Benefits Counseling

-          Military Personnel Services, such as ID cards

-          Educational Services

-          Transition/Employment Assistance

-          Social services to include financial counseling, stress management, translator coordination and Exceptional Family Member services

-          Travel pay for Family members on Invitational Travel Orders (ITO)

-          Substance Abuse information and referral for Family members

-          Coordination of Legal and Pastoral Services

IMCOM: Soldier and Family Assistance Center (SFAC)

Contact your local SFAC Representative for more information.

Violence Prevention and Education

The US Army Family Advocacy Program is dedicated to the prevention, education, prompt reporting, investigation, intervention and treatment of spouse and child abuse. The program provides a variety of services to soldiers and families to enhance their relationship skills and improve their quality of life. This mission is accomplished through a variety of groups, seminars, workshops and, counseling and intervention services.

Emergency Placement Care Program (EPC)
Victim Advocacy Program (Domestic Violence)
Sexual Harassment and Assault Response Program (SHARP)
FAP education and prevention
New Parent Support Program (NPSP) 
Support groups and enrichment classes

Contact the Family Advocacy Program Manager to begin.

Sexual Harassment Assault Response and Prevention: 

SHARP 24-hour Response Hot Line: +1 (877)995-5247


Victim Advocacy Program

The Victim Advocacy Services Program provides comprehensive assistance and support to victims of domestic abuse and sexual assault, including crisis intervention, safety planning, and assistance in securing medical treatment for injuries, information on legal rights and proceedings, and referral to military and civilian shelters and other resources available to victims. Victim Advocacy services are available 24 hours a day, 7 days a week to Soldiers and Family members.

 

New Parent Support Program

The Army's New Parent Support Program is a key secondary prevention program within the Family Advocacy Program which falls under the umbrella of Army Community Service. Established in 1995, this voluntary participation program helps Soldiers and Family members who are expecting a child, or have a child or children up to 3 years of age, to build strong, healthy military families. Through a variety of supportive services including home visits, support groups and parenting classes, the NPSP helps Soldiers and Families learn to cope with stress, isolation, post-deployment reunions and the everyday demands of parenthood.

Deployment or Mobilization Assistance

Welcome to Mobilization and Deployment! Our mission is to provide training, information and assistance to Soldiers, Civilians and their Families to maintain individual readiness throughout the entire deployment cycle. Deployments can be challenging—a highly emotional and stressful event for Soldiers, Civilians and their Families. Fortunately, Mobilization and Deployment is here to provide guidance, resources and training for all; Soldiers, Civilians and their families; to include parents, Family Readiness Group members and Rear Detachment cadre and ACS/Reserve staff throughout the Army Force Generation (ARFORGEN) cycle. Whether supporting deploying units by providing pre-deployment information and material to Soldiers, Civilians and their Families; to providing reintegration and RESET training as they reconstitute their Family unit, the Mobilization and Deployment Team is here to support you! Our TEAM is always ready to provide quality service for our Soldiers, Civilians and their Families.

"ARMY STRONG, FAMILY STRONG"

Army Emergency Relief (AER)

Overview

Army Emergency Relief (AER) is a private, non-profit organization established to assist Soldiers and their Family members in emergency financial situations due to no fault of their own. Financial assistance is given in the form of an interest-free loan, grant, or combination of the two. Loans are repaid by an allotment.

Education Programs

AER's Education Program is a secondary mission to help Army Families with the costs of education. The three separate scholarship programs are:

Stateside Spouse Education Assistance Program
• Applicant must be the Spouse or widow(er) of an active duty or retired Soldier and reside in the United States. 
• Stateside applicants must be full time students. 
• First undergraduate degrees only.
• Active duty military personnel are not eligible.

Overseas Spouse Education Assistance Program Major General James Ursano Scholarship Fund for Dependent Children.

Overseas Spouse Education Assistance Program 
• Applicants must be a Spouse of an active duty Soldier assigned in Europe, Korea, Japan, or Okinawa. 
• Applicants must physically reside with the Soldier at the assigned location. 
• First undergraduate degrees only.
• Off post students are not eligible.
• Spouses may be part time or full time students.

Major General James Ursano Scholarship Fund for Dependant Children 
• Dependent children, stepchildren, or legally adopted children of Army Soldiers on active duty, retired or deceased while in active duty or retired status.

The children of Grey Area Reservists/National Guard are eligible as well.

Scholarship awards will be awarded up to half the cost of tuition. Scholarship awards are based on financial need, as evidenced by income, assets, Family size, and special circumstances.

Applications and instructions are available for all the scholarships on the AER website at www.aerhq.org

AER Resources and Forms

ACS Outreach Services - Think ACS First!

ACS Outreach Services brings ACS information into the community to promote Soldier and Family well-being and quality of life, focusing on three main areas: education and prevention, direct services and cultivating a sense of self-reliance within the Military community.  ACS Outreach provides ACS overview briefings and information tables, and is available for unit functions by request.  In addition, ACS Outreach Services coordinates special events throughout the year.

Unit Service Coordinator

ACS Outreach manages the ACS Unit Service Coordinator (USC) program. Each battalion and brigade are assigned an ACS USC to serve as a conduit to units to assist them in bringing ACS classes and services directly to the unit based on unit specific needs.  Please contact ACS Outreach Services for more information

Contact information:

ACS Outreach Services

(315)772-5374

ACS Bldg. P-4330 Conway Road

Army Family Action Plan (AFAP)

Army Family Action Plan (AFAP) is a year-round program dedicated to improving the quality of life for all members of the military community.

Army Spouses created AFAP in the late 1970's as a grassroots idea to improve the standard of living for their Families. These Spouses realized that they would have to get organized to accomplish this so they could identify problems, suggest ways to resolve these problems, and volunteer to fix them. This was the beginning of AFAP as we know it today. AFAP was officially adopted by the Department of the Army in July 1983 and was published in 1984.

How Does AFAP Work?

You Tell Us What You Think – Using submission forms obtained from ACS or found on the FMWR website, submit your ideas, concerns, or suggestions.
AFAP Listens and Acts – Once an issue is received, it is reviewed, discussed and submitted for action.
Together We Find A Solution – Although some issues take time or are proven unattainable, every issue with merit is reviewed, monitored, and tracked until a resolution is found. Most issues can be handled locally and are sent to the appropriate directorate for resolution. Those issues that are unattainable at the local level are forwarded to the Forces Command level. If the issue is not resolved at that level then it may be forwarded to the Headquarters, Department of the Army (HQDA) AFAP.

AFAP Gets Results

The results help to strengthen the readiness of the Army, make and change legislation and create policies and services from the ideas and suggestions submitted for consideration. Some examples of improved programs and services that have been implemented are Army Family Team Building, Better Opportunities for Single Soldiers as well as the Thrift Savings Plan now available to Soldiers.

Submit an Issue

A Fort Drum AFAP Issue Submission Card may be filled out and dropped off at the ACS Bldg on Conway Road or emailed to [email protected].

Or submit your issue online!

Take Part

If you would like to become a part of this important process or you would just like to submit an issue or concern, please call, email or visit the AFAP program located in the ACS Building.

Army Family Action Plan (AFAP)
(315)772-9229
ACS Bldg. P-4330 Conway Road
[email protected]

Army Family Team Building (AFTB)

 




2017 Fort Drum AFTB Class Schedule

Army Family Team Building (AFTB) is about readiness - for both the mission and the Family. AFTB is about adapting to Army Life. We teach and train America's Army and their Families in a wide variety of knowledge, skills and behaviors that foster personal and Family readiness. AFTB is a never ending resource that is available to every member of the Army family for free. The Army takes care if its own, by teaching its own to take care of themselves.

Fort Drum AFTB is a volunteer based program. Volunteer instructors teach other Family members about the military lifestyle and resources providing the tools and skills needed to become vital members of their community. As well as instructing, we offer a variety of volunteer opportunities. AFTB Instructors are available upon request to conduct classes or separate modules for individual units, organizations, and family readiness groups on a contract style basis. Please call or email for more information on this opportunity.

AFTB is also an available and valuable tool for those Military Family members of the National Guard and Reserve Components. Even if you are not near a military installation, our Level K, G, and L courses are also offered in English and Spanish online at www.myarmyonesource.com. Click Online Training for classes.

Level K: Military Knowledge: targeted toward people new to the Army or anyone interested in updating personal skills or basic knowledge.

Level G: Personal Growth & Resilience: with courses geared toward emerging leaders within the Army community. Modules focus on personal growth and group dynamics.

Level L: Leadership Development: offers training to enhance the professional growth and leadership development opportunities of Family members, especially those who might assume leadership roles within the community and unit.

ACS Instructor, Facilitator, and Briefer Training is for those wanting to volunteer with the AFTB program or ACS as Instructors, Facilitators, or Briefers.

 

Army Family Team Building (AFTB)
(315)772-9229
ACS Bldg. P-4330 Conway Road
[email protected]

Army Volunteer Corps

 

2017 AVCC Class/Event Schedule

The Fort Drum Army Volunteer Corp seeks innovative ideas and processes to improve the quality of life at Fort Drum through the use of volunteer agencies. We offer quality volunteer work experiences in environments where volunteers are appreciated and valued.

Administrative, medical, mentoring, teaching and coaching are a few of the opportunities that are available. Many agencies have flexible schedules and some even reimburse you for childcare. You can volunteer for a day, an evening, for a one-time event or for ongoing activities for as long as you desire.

Why Volunteer?

For the volunteer: Build your resume, contribute to the community, meet new people, share expertise, gain new skills and work experience, be challenged.
For the community: Develop new programs, sustain programs, enrich the quality of life for Soldiers and their families, price and ownership.
Recognition: Volunteer of the month, Installation Impact awards, national and agency awards.

Getting Started

Complete a volunteer registration packet, which includes Volunteer Agreement DD Form 2793 and if you are under 18, the Parental Permission Form DA Form 5671. Register online at MyArmyOneSource.

Each agency offers orientation and training. Training may include, first aid, office administration, tax preparation, train the trainer, coaching skills, etc. Volunteers may attend the volunteer manager/supervisor training as well.

The Volunteer Corps coordinator can help you to find an opportunity that matches your interests or talents and assist you with the application process.

Volunteer Management Information System Basic Training - VMIS 101 - This class covers the use of VMIS, including registration, uploading positions in your organization, and input of monthly volunteer hours.
Volunteer Administration Training - This class covers volunteer regulations, files, awards and the Volunteer Information Management System (VMIS)

 

Army Volunteer Corps (AVC)
(315)772-2899 
ACS Bldg. P-4330 Conway Road
[email protected]

 

Community Information Services (Information & Referral)

Army Community Service (ACS) Community Information Services (Information & Referral) is your source for an array of on and off post information designed to assist Soldiers, Families, civilians and Retirees in meeting their basic needs and improving their quality of life.

This office serves as the central distribution point for ACS information, flyers, brochures and upcoming events and activities. Individual and Family assessments are conducted to ensure appropriate assistance or referrals are provided. In addition, we maintain an extensive resource file of local public, private and voluntary agencies and organizations to assist individuals and Families with getting the support they need. The ACS kitchen and Family lounge provide a place for you to rest and prepare a meal when in transition. Our coupon program helps individuals and Families save money on their groceries. No matter the need, we are here to support you.

We invite you to visit ACS and utilize the many series and opportunities that we have to offer.

 

Community Information Services (Information & Referral)
(315)772-6799 or 1-800-826-0886
ACS Bldg. P-4330 Conway Road
[email protected]

Employment Readiness




2017 Fort Drum ERP Class/Event Schedule

Employment Information Welcome Packet

The Employment Readiness Program (ERP) provides career assistance and job lead referrals to soldiers, spouses, and military family members as they transition in and out of Fort Drum. The program offers a series of career development workshops to enhance the job searching experience. Employment Readiness educators can also hold one on one appointments to assist with job searching, resumes, interviews, and career development.The Army knows that employment is one of the most significant issues for Military Families. Therefore, the goal of the Fort Drum ACS Employment Readiness Program is to assist Families with their job search particularly as they are impacted by such a mobile lifestyle.

Classes offered:
Starting Your Own Business
Federal Employment Workshop
Career Portfolio and Interview Skills Workshop
Career Development Seminars
Resume Start To Finish
Career Specific Career Fairs

 Career Development Seminars

Networking Opportunities
Teen Job Prep
Teen Resume Prep

Career Counseling and Job Coaching

One on One Career Counseling (by appointment)
Group Workshops (by appointment)

Resource Library

Get Help With Your Job Search Or Exploring Careers
Use the Virtual Career Library logo to access over 6,000 digital pages of career guidance information. Inside you will find hundreds of career advice videos, digital career books and directories, virtual job data cards, job bank resources, and occupational videos to help you achieve career and life success.

Available in the ERP office.

Career Resource Guides
Educational Guides and Information
Informational DVDs
Faxing & Copying
Copies and fax machine services are provided free of charge.
Computers
Internet
Resume Writing Software
Education Information
Local Higher Education Informational Packets
Professional Development Guides
Weekly Job Listings
A current list of employment opportunities can be obtained at the Employment Readiness office for both on-post and off-post. To be added to the Employment Readiness Program Job Bank email contact list call the ERP office.

Employment Readiness Checklist

These are some items that are helpful to hand carry when trying to find a job.

 School Transcripts
 Updated Resume
 Information on Previous Employers & References
 Certifications/Awards
 Letters of Recommendations
 Portfolio

Free Quick Guide resources are available on your mobile device with QuickSeries Mobile

To use QuickSeries:

On your mobile device, visit http://quickseries.com/index.php?section=reader
On that page, choose the correct download for your mobile device and download QuickSeries Mobile
Open your mobile device's web browser and type in: qsp.mobi/7x4pn54q
Select ok when prompted to install or download your eGuides
Your free eGuides will be made available and ready for reading.
Call 1-800-361-4653 if more information or assistance is needed.

Employment Readiness Program (ERP)
(315)772-9611
ACS Bldg. P-4330 Conway Road
[email protected]

Exceptional Family Member Program

 

2017 EFMP Program Information & Class/Event Schedule

The Exceptional Family Member Program (EFMP) helps provide support and the required care for Family members with disabilities and special needs, to better support the Soldiers and Family members stationed at Fort Drum.

EFMP works with other Military and Civilian agencies to provide for Family members with special needs:

Comprehensive and coordinated medical services
Educational needs
Housing needs
Community support services
Personnel services

The EFMP assists with the special physical, emotional, developmental, and intellectual needs by providing community support services such as resources, information and referral, advocacy, support groups, respite care and relocation assistance.

An Exceptional Family Member is a dependent family member (child or adult) of an active duty Soldier, with any physical, emotional, developmental, behavioral, mental, or intellectual disorder that requires special treatment, therapy, education, training, or counseling on an on-going basis.

Some examples of EFMs are those with: Asthma, Autism or PDD, Attention Deficit Disorder (ADD or ADHD), Diabetes, Arthritis, Depression, Bipolar, or Schizophrenia, Anxiety/Phobias and Panic Disorders, Learning Disabilities or any special education services, and high risk newborn.

Soldiers eligible to relocate their Families at government expense should identify Family members with a medical, physical, emotional, or intellectual disorder to assignment authorities in accordance with AR 600-75; enrollment in the EFMP is mandatory.

Those who are required to enroll are: Active Duty Army, The US Army Reserve Soldiers in the USAR – Active Guard Reserve program and other, USAR Soldiers on Active Duty exceeding 30 days, and the Army National Guard personnel serving under authority of title 10, United States Code.

Enrollment is done on a walk in basis although assignment coordination or screening requires an appointment. Enrollment in the program does not adversely affect selection for promotion, schools, or assignment. The information provided to EFMP is not made available to selection boards and command. EFMP is designed to help Families get the care they need and deserve.

 

Exceptional Family Member Program (EFMP)
(315)772-5476
ACS Bldg. P-4330 Conway Road
[email protected]

Family Advocacy Program

2017 FAP Class/Events Schedule

Raising children and communicating with your spouse or intimate partner can be quite difficult and cause strain on the entire Family. Offering services and support to address identified stress and prevent Family violence is the goal of the Family Advocacy Program (FAP). FAP offers a variety of services to strengthen military Families through education and activities that promote life skills and cultivate healthy relationships.

SUB-PROGRAMS

Baby Bundles
Command and Troop Education
New Parent Support Program (NPSP): In-Home Support

Required Professional Training and Reporting Procedures:

To report suspected spouse or child abuse:

In case of emergency dial 911.

On Fort Drum, the 24/7 reporting point of contact is the Military Police Station: (315)772-5156.
After the notification of alleged child abuse, maltreatment, or neglect, you are encouraged to provide your first-hand account of the incident to the New York State Child Abuse, Maltreatment Registry at: 1-800-342-3720; "Take Your Stance and End the Cycle of Violence!"

Domestic Violence: The Fort Drum Crisis Hotline: (315)955-4321, connects you with a trained professional victim advocate 24/7.

Services provided by these advocates include:

Crisis Intervention and non-clinical support
Safety Planning
Assistance with Safe Shelter Placement
Information regarding the Transitional Compensation Program
Coordination with emergency services: housing, food, transportation, etc.
Assistance in requesting protection orders (Military or Civilian)
Accompaniment throughout the medical, investigative, and legal processes
General information and referrals

Reporting Options for Domestic Violence are:

Restricted – This type of report is made directly to a healthcare provider, victim advocate, or the Family Advocacy Program Manager (sphere of protection). Chaplains are not part of this sphere, however they share a privilege with regard to communication which enables them to link victims with access to the others who are then able to take the restricted report. A restricted report does not initiate a formal investigation or Chain of Command notification. Victims are provided with medical care, advocacy, and counseling.

A Restricted Report can be made unrestricted by the victim.

Unrestricted –This type of report initiates a formal investigation, and notification of the Chain of Command. Victims are provided with medical care, advocacy, and counseling.

An Unrestricted Report cannot be made restricted at anytime by the victim.


Family Advocacy Program Victim Advocates are located at ACS, Building P-4330 Conway Road, Fort Drum, New York 13602. During regular duty hours you may contact (315)772-5605 or (315)772-8934, to schedule an appointment, request assistance, or to receive information and referral. After duty hours call the crisis hotline number listed above.

WORKSHOPS

Life Skills Seminars:

Our healthy relationships, stress management, anger management, and conflict resolution classes focus on healthy communication and building strong relationships. We also collaborate with other programs such as Army Substance Abuse Program and the Military Family Life Consultants, to provide curriculum on other topics as needed or requested. We can modify material and make classes available through unit groups and FRG meetings as well.

Parenting Workshops:

We offer various parenting classes covering all children's ages, from 0–18, to provide education on alternative discipline techniques and developmental stages.

Family Advocacy Program (FAP)
(315)772-6929
ACS Bldg. Conway Road, P-4330
[email protected]

Financial Readiness Program

Fort Drum 2017 FRP Class Schedule

Financial Planning & Consumer Affairs Services - Personal Financial Planning and Consumer Affairs Services are offered to help Soldiers and their Families develop and maintain a realistic spending plan, reduce debts, improve their credit, plan for the future through savings and investment, and resolve consumer complaints.

Individual Counseling - Individual counseling is available for Soldiers and Families requiring or wishing to receive personal assistance.

Classes - The Financial Readiness Program (FRP) offers regularly scheduled classes on money management, saving and investing, credit and debt management, and consumer affairs, such as home and car buying.  Classes are also offered to units in all areas of personal financial planning.

Special Classes - In addition to routine classes and individual counseling, our staff is available to teach financial readiness classes required by AR 350-1 or to present to groups such as FRGs, NCOPDs and OPDs.

Financial Counseling (by appointment)

Budget Counseling
Debt Management Counseling
Overall Financial Planning
Basic Investment Planning
Retirement Planning
Student Loan Management
Credit Counseling
Credit Reports & Scores
Home and Car Buying
Thrift Savings Plan (TSP)
Family Subsistence Supplemental Allowance (FSSA)

Debt Management
If you find yourself in the position of considering loan consolidation, you may be headed for financial difficulty.

The following are danger signs:

More than 20% of your take home pay is used for credit payments (excluding home mortgage).
You have one or more loans from a lending company(ies) at 18% or more interest.
You use credit cards impulsively.
You routinely use your overdraft protection.
You do not pay your bills on time.
You pay only the minimum amount down on your charge accounts each month.
The use of advance check cashing and pay day loans is part of your regular budget plan.
Your car loan is financed at 12% or more interest.

If one or more of the above describes you or your spouse, don't wait!  Stop by the ACS Annex, Bldg. 435A MWR Dr. or call 772-2919/5196 and schedule an appointment with a Financial Counselor.

Financial Management Tips:

Obtain a yearly credit report. The three major companies are:

TransUnion Corporation (800) 916-8800

Experian (888) 397-3742

Equifax (800) 685-1111

If you want telemarketers to stop calling your home, register with the "Do Not Call" Registry. For the Federal Government contact http://donotcall.gov/default.aspx or call 1-888-382-1222 from the telephone you wish not to be called. New York State can be contacted by calling 800-697-1220 or online at www.consumer.state.ny.us

For every pre-approved credit offer you receive, an inquiry has been made into your credit report. The number of "hits" on your account may work against you. To exclude your name from a list of pre-screened names for a two-year period, call the OptOut Request Line at 888-567-8688.

ACS Financial Readiness Program helpful links:

www.financialentertainment.org

Financial Readiness Program (FRP)
(315)772-5196
ACS Annex, 435A MWR Dr.
mailto:[email protected]

Mobilization and Deployment Readiness Program

 

Training Schedules

2017 Fort Drum Mob/Dep Class Schedule

2017 Fort Drum Resilience Training Schedule

ACS Mobilization and Deployment (Mob/Dep) provides professional and timely support to active duty, Reserve and Guard Soldiers and their Family members through workshops, briefings and services developed to enhance mission preparedness and self-reliance throughout the deployment cycle. The Mobilization and Deployment readiness mission is to develop an adaptable community in which Soldiers and their Families are prepared for deployment, have access to the support they need throughout its course, and are prepared for the unique challenges they face when their Soldier returns.

Training Support Documents

 Must Have Documents

Website Support:

www.myarmyonesource.com
www.militaryonesource.com 
www.tricareonline.com
www.redcross.org 
http://csf2.army.mil

www.afterdeployment.org
www.hooah4health.com

Mobilization and Deployment
(315)772-0470
ACS Bldg. P-4330 Conway Road
[email protected]

Relocation Readiness Program

 

2017 Fort Drum Relocation Program Class/Events Schedule

Drum Soldier & Family Tour Guide

The Relocation Readiness Program is a comprehensive program designed to help Families in the relocation process. Available seminars and briefings cover a wide range of topics. Join us for a welcome tour and newcomer's orientation, cultural activities, and more. Relocation Readiness' goal is to help you make a smooth transition.

Welcome packets are given to each Soldier during in-processing at the welcome center located at Clark Hall. The welcome packet comes in two formats; compact disc (CD), and a printed hard copy. By default CD's are mailed out unless otherwise requested. This packet can also be mailed to newcomers before their arrival. Each packet contains information on ACS programs, Army Emergency Relief and other resources available on post and in the surrounding communities. Additionally, installation specific information can be found in the Installation Program Directory box on www.militaryonesource.mil.  This site provides the most current information on your next duty station. 

For Families who are in transition, there is a well-stocked Lending Closet. Borrow basic household items, such as pots, pans, dishes, silverware, sleeping mats, folding table and chairs, playpens, highchairs and car seats for up to a 30-day lending period.

Infant/toddler seats are mandatory for vehicles in New York State; the Lending Closet has an ample supply. Call (315)772-6566/3241 for more information.

Support Groups

Hearts Apart Support Group
International Spouse Support

Local Hospitals

Relocation Readiness
(315)772-6566
ACS Bldg. Conway Road, Bldg. P-4330
[email protected]

Soldier and Family Assistance Center

Soldier and Family Assistance Center Mission Statement

The Fort Drum Soldier and Family Assistance Center strives to provide a supportive environment for Soldiers and Family Members as they deal with the stress and uncertainty of injury and the effects of war.

The SFAC provides direct services, as well as referral, liaison and coordination with installation and local agencies to deliver non-medical services to Soldiers and Families assigned to the 3-85th IN Warrior Transition Battalion, Soldiers in the Integrated Disability Evaluation System process and their Families, Families who remain in our area while their Soldier heals elsewhere, and the Spouses and Families of our Fallen Warriors.

Our team of professionals is here to ensure that Soldiers in Transition and their Families are provided the best services available, in order to reduce the confusion and stress of this period of healing and transition.

 

Soldier Services and Contact Information

Soldier for Life Transition Assistance Program (315)772-0838

Career Counseling
Job Search Support
Resume/Employment Workshops
Job Fairs and more

CYS Services Specialist (315)772-8672

Childcare and Youth Services Liaison
Resource Assistant

Education Specialist (315)772-3682

GoArmyEd Enrollment Assistance
Montgomery GI Bill/Post 911 GI Bill
Army and Civilian Testing
Educational and Guidance Counseling

Financial Counselor (315)772-6894

Budget Development Assistance
Financial Crisis Counseling
Financial Planning for the Future

Human Resources Specialist (315)772-1039

Updating Records, ID Cards and DEERS

Information and Referral and Follow-up Coordinator (315)772-7781

Provides answers to questions relevant to individual Soldiers and Families
Clearinghouse of resources and information
In and Out Processing for Soldiers and Families who are new to SFAC or WTB

Social Services Coordinator (315)772-0035

Information and assistance in finding solutions to life problems such as stress management, substance abuse and readjustment counseling

US Department of Labor (315)772-0837

Career Counseling
Job Search Support
Assistance with employer difficulties related to military service for National Guard and Army Reserve Soldiers.

Veterans Benefits Counseling (315)772-2529

Information about Veterans Benefits and how to apply for them.

Soldier and Family Assistance Center (SFAC)
(315)772-7781
11042 Mount Belvedere Blvd
[email protected]
virtual SFAC

Survivor Outreach Services

We honor Soldiers who have made the ultimate sacrifice for the security of our Nation by supporting and caring for their survivors. The Army is committed to providing sustained support to surviving Family Members to ease the pain of their loss and help them through this very difficult time.

Fort Drum Survivor Outreach Services:  

Facilitate support groups where Families and individuals can share feelings, concerns, thoughts, resources, and information in a safe and understanding setting.
Maintain personal contact with Survivor Families with phone calls, cards, and mailings.
Offer on site professional financial counseling to assist Families in adjusting to their unique monetary circumstance following the loss of their Soldier.
Provide care for Survivor Families beyond what Casualty Officers and Unit Care Teams can offer.
Act as liaison between the Survivor Family and their Soldier's unit: communication, contact, and information for special memorials or events.
Partner with military and other agencies and organizations to provide resources and programs such as grief camps for children, adult retreats and other special events and bereavement materials.
Help to train Family Readiness Groups, Care Teams, Casualty Assistance Officers, and Army Leadership about SOS and bereavement issues.
Conducts special events to provide Surviving Families an opportunity to interact and share in a social setting.

Resource Links:

Patriot Guard Riders of New York

Tragedy Assistance Program for Survivors (TAPS)

Climb To Glory Fund

Climb to Glory Fund

 

The Family and MWR Climb to Glory Fund accepts unsolicited donations or gifts made to the Army and intended for Military Family support. These funds are distributed at the Battalion level to Family Readiness Groups of all permanently stationed units under the jurisdiction of Fort Drum and tenant units physically located on Fort Drum. 

Any individual or organization that would like to make cash donations to The Climb to Glory Fund may contact:

 

Family and MWR Financial Management

10783 Chapel Dr.

Fort Drum, New York 13601

 

Directorate of Family and Morale, Welfare, and Recreation
10783 Chapel Dr.
(315) 772-5685