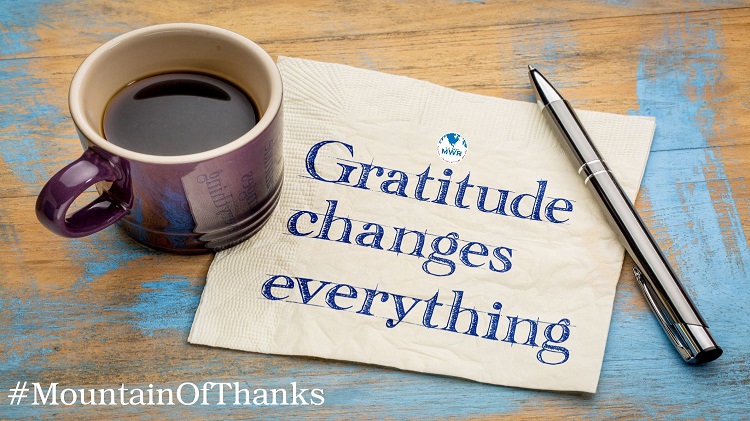 Fort Drum Family and MWR - 10783 Chapel Drive Fort Drum , New York Google Map
November is known for Thanksgiving, but how many people regularly express gratitude? Studies have shown that expressing gratitude can have many health benefits, both emotional and physical. Keeping track of what we are grateful for can help us feel more relaxed, optimistic and less self-centered, allowing us to have deeper, healthier relationships. When we are focused on the positive aspects of our lives, we maintain a brighter, more optimistic outlook, helping us cope with daily stressors and experience a greater sense of happiness.
When we express gratitude to others, we feel more connected and perform better at school, at work, and in our interpersonal relationships. Gratitude may be the key to a happier, healthier lifestyle, which is why Fort Drum Family and MWR would like to invite the community to reflect things you are thankful for.
Family and MWR has launched #MountainOfThanks. This campaign has a goal of promoting positivity on Fort Drum and increasing awareness of what makes Fort Drum and the local community a special place to live, work, and grow. While November is the month most often associated with giving thanks and expressing gratitude, we want to spread that sentiment across the entire year. We introduce #MountainOfThanks this month, but this is a theme we will carry throughout the months to come. Participation is easy. Follow us on Facebook at facebook.com/DrumFMWR to participate with us and learn how to get involved.
Watch our launch video on on Facebook or YouTube!
As a component of the #MountainOfThanks campaign, we are inviting all to participate in our mountain building initiative from November 15 to December 15. The goal is to give our customers the opportunity to highlight and physically display someone or something they are thankful or grateful for. Soldiers, Family members, retirees, and civilians are invited to create their own mountain of thankful statements. Triangle "mountain" templates are available below to download, print, and start building your own mountain ranges by connecting individual pieces. (HINT: you will want to print both large templates 1 and 2 if you choose to use the bigger size so you can connect the pieces together and form your mountain.) Any individual or group is welcome to tag photos of their completed mountains using the hashtag #MountainOfThanks. Check out the Family and MWR #MountainOfThanks and then we challenge you to participate along with us!
Download your Mountain Templates