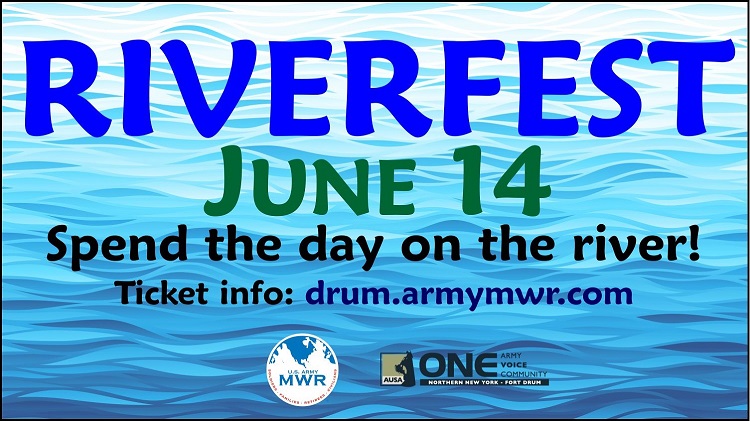 Note: This event has already passed.
Date: Jun 14 2018, 9 a.m.
Community and Special Event Information
Family and MWR, in partnership with AUSA, offers a summer day on the river to Fort Drum Soldiers and Families at the annual Family and MWR/AUSA Riverfest. Start at Alexandria Bay Village Pavilion for a picnic lunch before strolling through the village to the Uncle Sam dock. Enjoy the Family and MWR Carnival at the boat launch area with children's events, rock climbing wall, USO and Veteran's Services displays. Board a riverboat for a 1-hour tour of the Thousand Islands, where you will have access to Heart Island with a tour of Boldt Castle.
With your ticket, you may take a free shuttle ride from Magrath Sports Complex to Riverfest. We HIGHLY ENCOURAGE taking the shuttle due to limited parking available in Alexandria Bay. Parking and shuttle drop off is at the Alexandria Bay Drive-In located on Rt. 26 or at the Uncle Sam's overflow parking lot located off of Rt. 12. Look for signs to Riverfest parking. The last bus returning to Fort Drum will leave Alexandria Bay at 5 p.m.
No pets please. Service animals are permitted.
Cost
Tickets are $15 per adult, $5 for children ages 6 to 12, and children 5 years and younger are welcome to attend for free. Tickets are currently available for purchase at Outdoor Recreation (11115 Iraqi Freedom Drive) and MWR Headquarters (10783 Chapel Drive).
NOTE: We are currently selling overflow tickets. This means the tickets for the specific boat departure times (9 am, 10:30 am, 12 pm, and 1:30 pm) are sold out. Overflow ticket holders can board any of these boats as space allows. Additional boats will run in between the published boat times as well. Everyone who holds a ticket, timed departure or overflow, will get a full boat ride, Boldt Castle tour, and lunch.