Community and Special Event Information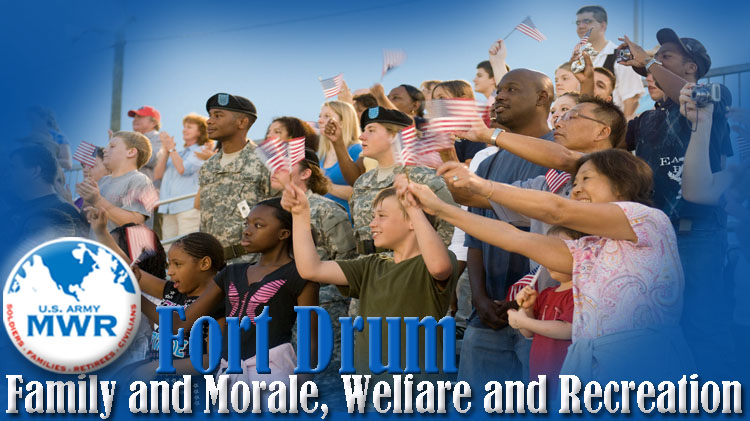 Fort Drum Family and MWR hosts several annual events throughout the year for our Soldiers, their Families, and the Fort Drum community.

BOSS Mountain Mudder – June 8, 2017 Do you have what it takes? The Mountain Mudder event is a hardcore obstacle course to test your all around strength, stamina, mental grit, and camaraderie.

Riverfest, Alexandria Bay – June 15, 2017 Family and MWR and AUSA offer a day on the river in Alexandria Bay to Fort Drum Soldiers and Families at this annual event. Take a riverboat tour of the Thousand Islands and Heart Island with a tour of Boldt Castle.

"Salute to the Nation" Mountainfest – June 21, 2017 This yearly event is free and open to the public and features Military equipment displays, children's games, bounce houses, food and beverage concessions, Salute To The Nation, and a free concert with nationally-recognized talent, all topped off with a fireworks display.

Color Me BOSS Fun Run – July 28, 2017 Annual walk or run that sends runners through color bombs and bursts.

Haunted Hayride – October 20, 2017 Prepare to be spooked at this ghostly night of fun at Remington Park. Haunted forests and pavilions are yours to explore, if you dare! Enjoy cookies, hot cocoa, and roasted marshmallows after you survive the terror.

BOSS Zombie 5K – October/November 2017 BOSS invites you to run for your life at the BOSS Zombie 5K Fun Run. The several obstacles scattered along the course and the Zombies coming after runners make it hard to complete this race without becoming one of the "undead."

Annual Tree & Menorah Lighting and Holiday Party – December 6, 2017 To kick off the holiday season, Military Families are invited to The Commons in early December to enjoy Fort Drum's Annual Tree and Menorah Lighting and Holiday Party. This is one of the most highly attended special events presented to the Fort Drum Community.

Community Leaders Information Forum (CLIF)

Community Leaders Information Forum

The Community Leaders Information Forum (CLIF) provides an opportunity for members of the Fort Drum community to share and receive information on upcoming events, programs, and services available on post and within the surrounding communities. CLIF is held at 10 am on the first Wednesday of every month (except July and August) at The Commons, and is open to all.

June 2017 CLIF Full Submission Notes

June 2017 CLIF Dates to Remember

June 2017 CLIF Briefing Slides

June 2017 CLIF Programs and Services Part 1

June 2017 CLIF Programs and Services Part 2

Holiday Hours

There are no holiday closures scheduled at this time. Please call or check each facility's web page for hours of operation.

Mountain Community Homes

Community Information

Fort Drum Public Works has released the 2016 Annual Drinking Water Quality Report. For more information, contact the DPW office at (315)772-0218.