Magrath Sports Complex and Pool
Hours of Operation
| | |
| --- | --- |
| Monday | 5:30 a.m. - 10 p.m. |
| Tuesday | 5:30 a.m. - 10 p.m. |
| Wednesday | 5:30 a.m. - 10 p.m. |
| Thursday | 5:30 a.m. - 10 p.m. |
| Friday | 5:30 a.m. - 10 p.m. |
| Saturday | 9 a.m. - 10 p.m. |
| Sunday | 9 a.m. - 9 p.m. |
Magrath Pool Hours of Operation
| | |
| --- | --- |
| Monday | 6 a.m. - 8 p.m. |
| Tuesday | 6 a.m. - 8 p.m. |
| Wednesday | 6 a.m. - 8 p.m. |
| Thursday | 6 a.m. - 8 p.m. |
| Friday | 6 a.m. - 8 p.m. |
| Saturday | 9 a.m. - 4:30 p.m. |
| Sunday | 9 a.m. - 4:30 p.m. |
| U.S. Holidays | 9 a.m. - 4:30 p.m. |
Contact
At Magrath Sports Center
Bldg. P-10050 Tigris River Valley Road
Tel:
+1(315)772-9673
Military DSN Tel:
(315)772-9673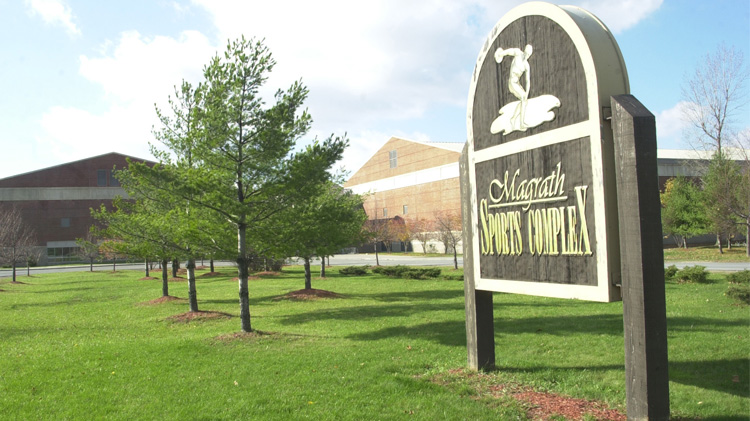 This state-of-the-art facility, located on Tigris River Valley Road off North Riva Ridge Loop, is the focal point for many of Fort Drum's sports programs. The building houses three basketball/volleyball courts; a 25-meter indoor pool; two saunas; an indoor running track; an exercise room equipped with the latest in Nautilus, Life Fitness, Hammer and weightlifting equipment; cardiovascular machines; and two racquetball courts. Outside, there is a football/soccer field, four lighted softball fields, four lighted tennis courts, and a 400-meter running track with a polyurethane running surface. Magrath Sports Complex is also home to the Urban Obstacle Course, which was designed using lessons learned from Afghanistan and Iraq. Personalized physical fitness instruction and health management is offered to help meet lifestyle goals.
Please note: children ages 12 and under are not allowed in the sauna, cardio rooms, or weight rooms at any time. As Family members in the basketball courts or pool only, children ages 13 to 15 must be actively participating in the same activity and under the direct supervision of a parent or guardian. Ages 16 and older may use the facility unaccompanied.
Magrath Strength and Conditioning Training Rooms


The Strength and Condition Training Rooms are comprised of free weights, machines, and stretching areas. Free weights range from 2 lb to 160 lb dumb bells. There are also kettle bells for specialized workouts. Muscle-specific Life Fitness machines, flat benches, squat racks, and cable machines are available.

Fitness rooms provide step masters, tread mills, seated bikes, and vertical bikes. This equipment is on a first-come, first-served basis with a 30 minute usage time.

Magrath Indoor Activity Areas

Magrath houses three full-size basketball courts, two racquetball courts, and a 178 meter three-lane walking and jogging track.

Magrath Pool


Magrath offers a 25-meter, six-lane pool with diving platforms at ten and twenty-five meters, all under constant lifeguard supervision. This pool is open daily for PT and open swim.

A swim test is required for full use of the pool by youth. See a lifeguard for testing.

Free swim lessons and Lifeguard training is offered to Active Duty Soldiers.

Intramural Sports Office

The Intramural Sports Office is located in Magrath Sports Complex. Follow this link for complete Intramural Sports information.